It's Gift-Giving Season …10 Gift Ideas for the Architect in Your Life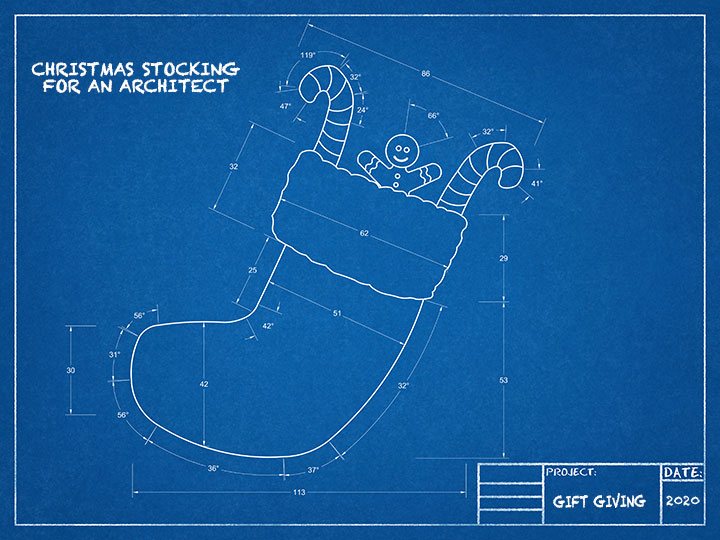 It's that gift-giving time of the year again and if you have an architect in your life, you know that getting them a gift or a stocking stuffer is extremely challenging since they are sooo particular … precise … distinct … let's settle on special. Unfortunately, you cannot procrastinate any longer – there are only 3 days left to shop. Don't get your tinsel in a tangle, the Silling Elf has put together a few gift ideas for stocking stuffers that they may actually like!
I've never met an Architect that doesn't like coffee! So how about a classic but refined personalized mug to hold the sacred java that stops them falling asleep over the blueprints?
Give a made-to-order mug and treat that someone special to a design that brings them joy, in an "abstract" way. $15
Well, we live in different times … everybody needs one and with this gift there is no introduction needed. No more to be said about this really. $13
Is your Architect an avid reader who likes to mark "extra special" pages in a book? Then Book Darts are the perfect stocking stuffer. They are small, easy to use and very discreet. They don't stick out from the page, so you can put that book right back on the shelf just like it is without any special allowances and still maintain that bookmarked place. $10
With all of the at home video conferencing, streaming, downloading, and everything else that is happening even more now due to our current pandemic situation here is a very practical gift. This Wi-Fi extender is something that would help anyone out in today's work-from-home climate. While there are cheaper versions of Wi-Fi extenders, just make sure to check the MPS provided by that specific item. It's best to go with the highest amount you can afford because you want as much juice as possible if you're trying to share "the love" throughout your house. $70
This is a cool gift! The Mavic Air 2 camera drone takes power and portability to the next level. It combines a powerful camera with intelligent shooting modes for stunning results. Let your Architect push their imagination to the limit because aerial photography has never been this easy. With 100% conviction, I can promise you that your Architect wants a drone – that was never the question – it's whether or not they would have the need for a drone … but who cares, it's a gift!! The technology behind these drones has made them smaller and sturdier, more affordable, higher performing, and easier to use. $1,000 – a little pricey but awesome!
There isn't an Architect on the planet that wouldn't recognize this, they are all unique and I can promise you that your Architect will keep it forever – and isn't that the sign of a really good gift? BUT … you have to get the large size and you have to get it in clear. Absolutely no modifications to this requirement please. $145
This is a practical gift, and quite attractive for a clamp-on desk lamp but what is really great is the length of the light source. This illuminating gift can be used on a work desk, to look better on video calls or for taking photos of things without worrying about shadows. This fixture provides a nice even wash of light that works considerably better than the light you would receive from a fixed point light source. It's large enough to work extremely well, but small enough to be convenient … and did I mention it's only $30?
An authentic design of Massimo Vignelli. Does your Architect actually NEED a wall calendar? Of course not, but the truth of the matter is that this calendar is a statement piece, and it says something about the person who is hanging it on their wall – "I am cool!" This 3′ x 4′ calendar is a modernist icon and one of the defining pieces from the 1960s… and it is in the permanent collection at MoMA. $60
I am pretty sure most people have never heard of this pencil sharpener. While it is quite expensive ($65) for what is basically a fancy pencil sharpener – the hook here is this…
1. It really is a unique and high-quality item
2. It sharpens pencils differently than other pencil sharpeners – you get a longer extension of graphite which, if your architect ever uses traditional pencils, they will appreciate.
Keep it simple with this classic architect's gift. The watercolor pencil is the perfect way to improve the beauty of a sketch or give it that extra pop that's needed to go from good to great. There are several types available but the aesthetic of these Naturally Smart Watercolor Pencils bring a new dimension to artwork when water is added. From hot asphalt black and woodnote brown to sunset pink and rust yellow, nothing is really more classic than a hand-drawn and nicely colored sketch. $25
I