A Tale as Old as Time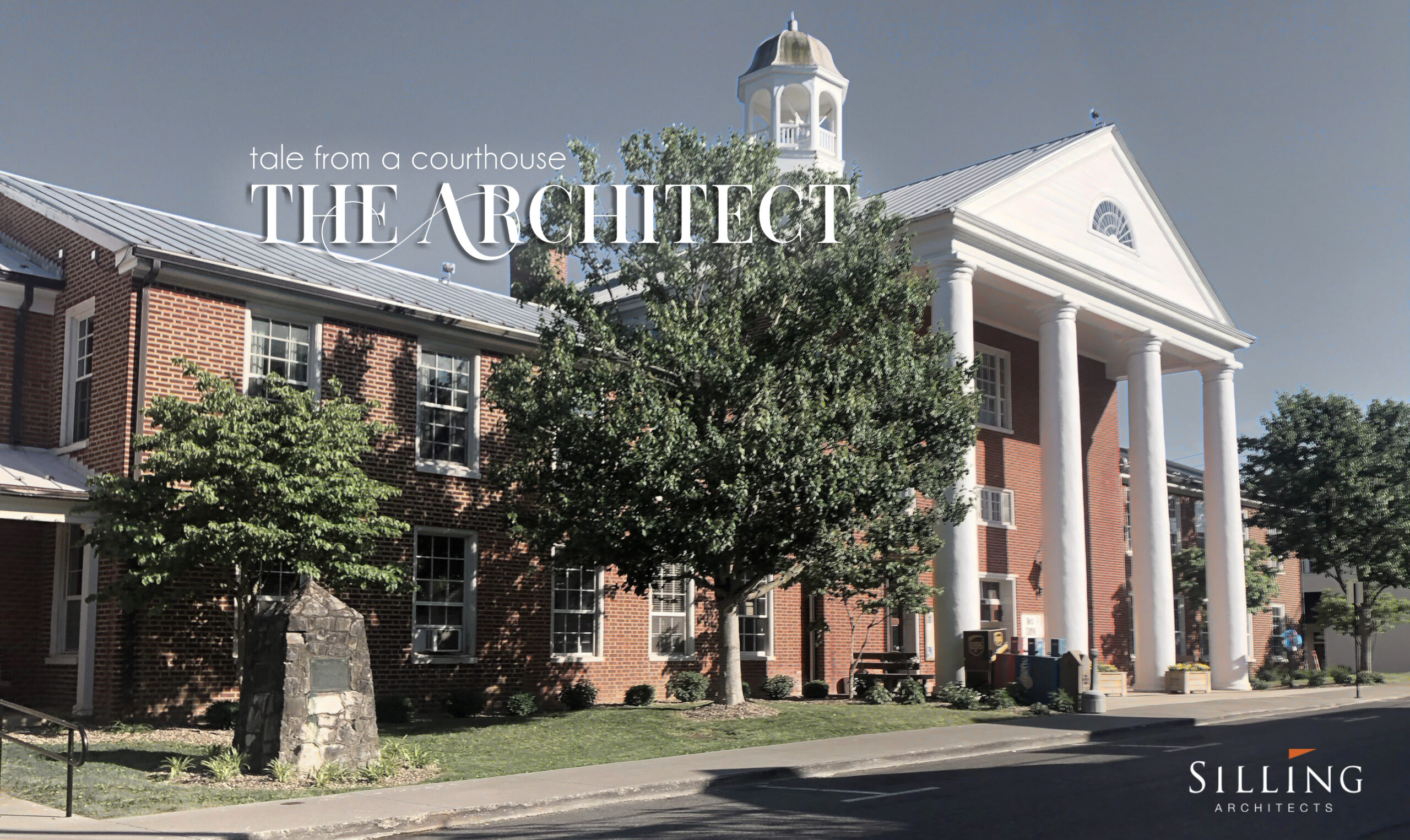 It's a tale as old as time….
A client wants their wish list fulfilled. But their budget is small…. very small. Now we introduce into the story a character called The Architect, that is tasked with finding a compromising balance between the wish list and the budget. Everyone agrees on this compromise and lives happily ever after. Right?
While our ultimate goal is that everyone will live happily ever after, there is more hard work (from the owner's side and the architect's side) that goes into the story than is described in the tale above. Since our firm has been focusing on Courthouses for the past 25 years, we've become accustomed to maximizing a client's budget to accommodate their wish list. And (plot twist!) many times we are working with a building that is over 100 years old, and built in an era without technology, building codes, or security and accessibility concerns. It isn't an easy task.
Historically, a courthouse was situated in the center of town in a downtown square. They stand for democracy, freedom, and is the built reflection of a community's pride. So, while it may not always make sense to keep modern day government offices in a historic court building, we always encourage keeping the courthouse as a vital downtown monument and reusing the building if possible. Many times, we are renovating a courthouse and/or adding an addition to accommodate the ever-growing tax offices, county clerk records rooms, and court functions.
We are currently going through this renovation process with the Greenbrier County Commission in Lewisburg, WV. The Commission first started looking at an expansion of their current courthouse back in 2005. Silling Architects investigated several design options for an addition, including both attached and detached buildings. Ultimately, it was decided at that time to table the project until further consensus and funds were available. Fast forward fifteen years to 2020, and the eager and enthusiastic Commission once again decided to tackle this renovation and addition project. And like every responsible and considerate entity, they want to use their money wisely, and stretch their budget as far as it will go. The Greenbrier County Courthouse is a Greek-revival style three-story brick building originally built in 1837, making it the oldest functioning courthouse in the State of West Virginia. Subsequent additions occurred in 1937 and 1963. The building was listed in the National Register of Historic Places in 1978.
In 1837, a Courthouse was designed around a single, monumental Courtroom. Throughout the years, more courts have been added. For example, right now in Greenbrier County, they have Circuit Courts, Magistrate Courts, and Family Court. Not only do these new courts require more space, they also require a level of security that didn't exist when the original courthouse was built. Judges and Clerks need the ability to enter a courtroom in the safest manner possible. The defendant shall also enter the courtroom in a secure manner, preferably directly from their detained location without using the public hallways. We want the public, the judges, the defendants, and the jurors to never cross paths. When you walk through a newly constructed courthouse, there are probably more hallways behind the Courtroom than for the public. This means you need more space than is usually available in an old courthouse. Accommodating these new space planning requirements becomes our first and foremost task when tackling a renovation project like the Greenbrier County Courthouse.
Once the programming and floor plans have been agreed upon, it's time to roll up our sleeves and get to work. Our team of architects and engineers have been busy field verifying existing life safety items, wall conditions, duct layouts, plumbing lines, doors and hardware, floor finishes, ceiling finishes, attic insulation, technology needs, etc. Each one of these items are evaluated and determined if they need to be fully replaced. I'm going to review several of these categories in more detail with you.
Life Safety and Code Compliance
These historic courthouses were built in a time with limited building codes compared to today's standards. The stair railings and guardrails are usually at a lower height. A sprinkler system is often non-existent. And believe it or not, the Americans with Disabilities Act wasn't signed into law until 1990, which means all construction prior to that date didn't need to accommodate wheelchair accessibility. This affects accessibility in bathrooms, hallways, entrances, and heights of transaction counters. It's the architect's responsibility to coordinate the code requirements with the Authority Having Jurisdiction, in this case the WV State Fire Marshal, and ensure the code requirements are satisfied.
Doors and Hardware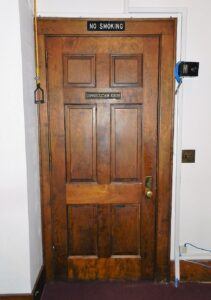 Absolutely beautiful wood doors…that are not fire rated where they should be. Unfortunately, this is currently happening at Greenbrier County. New building codes mean several existing doors should have a 45-minute fire rating. We have completed a thorough door inventory and hope to reuse any historic doors where we can within the building. Most buildings have had so many additions and renovations that the keying system is out of control. One of our tasks at Greenbrier County is changing the locks of all existing doors to match the new doors. This will relieve the building staff of considerable future headaches and time, so they don't keep searching for keys.
Mechanical, Plumbing, and Electrical
Where to start…. of all the building components to review, the HVAC systems have probably changed the most from when the courthouse was originally built. This is because it was built with NOTHING! Usually, the HVAC systems have been added onto and patched sporadically with no real overhaul of the complete building. This is our chance to do this at Greenbrier County, and the occupants will be most appreciative. Old buildings were built with small floor-to-floor heights so a lot of coordination is currently happening to make sure we don't have ductwork too low in the rooms. We will be investigating the existing domestic and sanitary lines to determine their condition, and if a full replacement is needed. The existing sanitary lines have been deteriorating in several places so we know some replacement will be required. The electrical system will be completely renovated, too.
Technology
Like mechanical systems, this category has changed so much since the design of the original courthouse because technology was nonexistent. And it's changing at such a fast pace, that every new renovation will include some type of technology upgrade. Interior and exterior cameras are common upgrades due to the increased demand of security. Courthouse entrances now require more space to accommodate metal detectors and bag scanners. The Courtrooms utilize technology in their court proceedings to present evidence, conduct video arraignment, and even to automatically generate court reports from digital voice recognition. Hallways and offices can be secured with key card access. The arrival of Covid-19 has forced many Courtrooms into the digital world, whether they like it or not. We're seeing video court proceedings slowly becoming the norm over the past several months, and may be around to stay.
Interior Design Finishes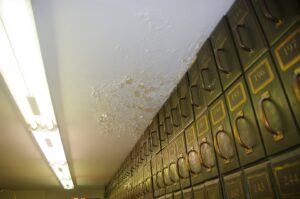 Fortunately, several of these courthouses were built with substantial materials including terrazzo floor, thick wood bases, wood wainscots, and hard plaster walls. Unfortunately, these materials are usually located in the original portions of the courthouse and not included in any renovations or additions. Most rooms have suspended ceiling tile to hide the new ductwork. At Greenbrier County, the lobby and main hallways have beautiful terrazzo floor and the courtroom areas have substantial wood bases. We will be preserving these finishes and selecting new finishes to complement their notable quality.
I'm sure I'm wrong, but I'm often envious of how easy it must've been to design a building in 1837 with no building codes, no mechanical systems, and no technology. But then again, they had to hand draft their construction documents!
I hope this project summary will inform prospective clients on the process of renovating an old courthouse, and possibly opens your eyes to the many layers of the renovation puzzle. I also hope it shows the public why it sometimes takes longer than anticipated to complete the design of a project, or possibly why the money just doesn't seem to be stretched as far as it seems it should. Although building construction is not an inexpensive or easy process, and usually not a fairy-tale, we believe our hard work and expertise will lead to these historic courthouses living happily ever after.