An Architects Guide to New Year's Resolutions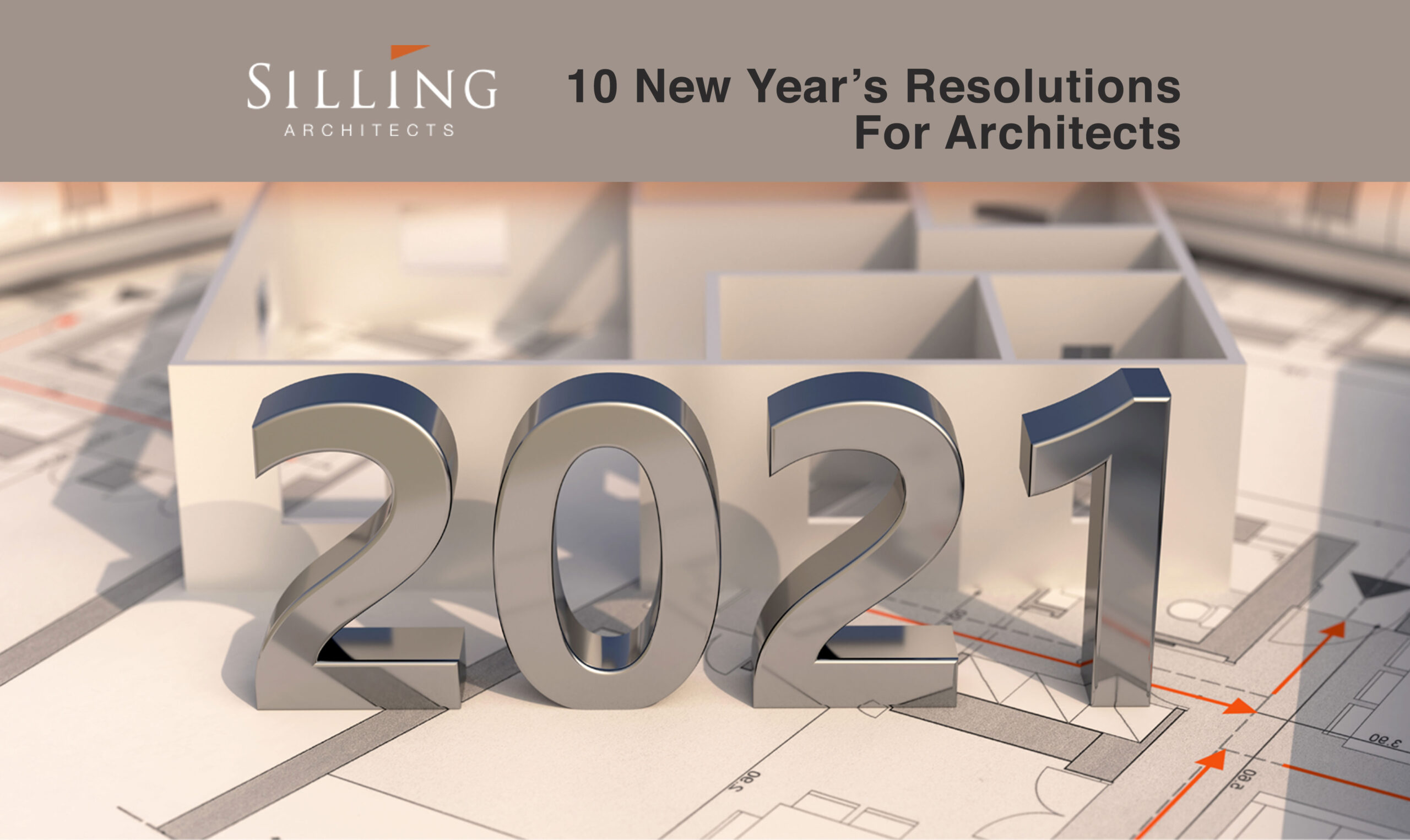 Dear 2020, we bid you Adios, Ciao, Au Revoir, Sayonara, Bye-Bye …and Good Riddance!
As 2021 brings with it more virtual meetings, late night project revisions and the traditional surge of caffeinated beverages, you might feel like it's a BIG effort to hit the ground running. No worries, all you need is a great New Year's Resolution – one that will focus your mind, uplift your spirit, and awaken your motivation. Here's a helpful New Year's Resolution Guide that will (hopefully) inject you with some fresh inspiration!
Wishing You a Healthy, Joyful and Inspirational 2021!
ONE I WILL … HONE MY DRAWING SKILLS
Practice makes perfect and contrary to popular belief, hand drawing isn't dead! Computer renderings have their place, but for the fluid creation of ideas and the general communication of initial concepts, nothing beats the appeal of a good, old-fashioned sketch or watercolor. So, sharpen your pencil and make sure everyone in your design studio has one. .. and knows how to use it!
TWO I WILL… LISTEN TO MY COMMUNITY
Taking into consideration the year we've just navigated our way through, it's more important than ever to listen to your clients. Listening to the views of community groups and local residents will help you better understand the changing needs of the local population as living and working conditions evolve. In this digital age when everyone's opinion can be heard – whether asked for or not – design is becoming increasingly democratic, and architects can retain their relevance by taking all viewpoints into account. You'll be amazed at what you can learn, and how it could inform your designs, particularly in relation to public spaces and civic projects.
THREE I WILL … BECOME AN ADAPTIVE REUSE EXPERT
The pandemic has forced people all over the world to rethink how they live and work. With many companies shifting from an office environment to a work-from-home culture, millions of square feet of office space have been left vacant. This revolutionary shift has presented architect firms with difficult questions … what kind of homes will dominate the future market, and how will commercial property remain financially viable? It's up to you to help turn these challenges into opportunities. Build your expertise in this field. Understanding how to transform existing spaces will give you a competitive edge and inform your new construction designs.
FOUR I WILL … EXPLORE NEW PRODUCTS AND MATERIALS
With the constant presence of climate change in the media and LEED at the top of the 2021 project list for "healthy people in healthy places", it's critical that you keep up-to-date with emerging materials and products that help to reduce the environmental impact of construction. By constant exploring and researching you will become a subject matter expert and can share this newfound wisdom with your clients. The more they are informed of the environmental impact of their project and the alternate options available, the easier it will become to convince them to break with convention and try something new.
FIVE I WILL … USE MY EXPERIENCE OF 2020 AS INSPIRATION
The past year has been centered around survival, but that hasn't stopped the industry from showing their creative genius by producing new design solutions that have created more flexible and healthier spaces, mobile medical units, interior space planning to include a home office, and public space re-structuring that helped evolve the new "socially distanced" landscape. As the pandemic subsides, don't lose your spirit of innovation and continue to be a pioneer of impactful and positive design solutions.
SIX I WILL … READ MORE OR LEARN A NEW TECHNOLOGY
With the long working hours that architects keep, it can be difficult to find the time to read or learn new skills. However, if you can allocate 30 – 60 minutes of quiet time at the end of each business day to flick through a few pages, or practice a new technology skill, you'll be amazed at the new ideas and fresh inspiration that can be found. If finding time is a challenge, why not learn by listening to an audio book (Audible) or a Podcast (Google) during your daily commute?
SEVEN I WILL … RESPECT MY LOCAL ARCHITECTURE
2020 globally ruined everyones travel plans, and architects – who love to travel more than most – will have found this challenging. Thankfully, with the COVID–19 vaccine on its way, the future of travel is looking a little brighter, but for now, until it's safe to venture further afield, take a walk, car or bike ride and explore your local architecture. There's probably a myriad of unique buildings that you pass-by every day and don't even pay attention to.
EIGHT I WILL … SPEAK UP!
Architects tend to let their designs do the talking for them. However, there is great value to be found in having a real conversation (even if you can't yet do it face-to-face) whether that is via a Facebook Live Stream, a virtual Zoom seminar, or even a Podcast. Learn to communicate your values and promote great design by telling stories, sharing your knowledge and experience, and encouraging people to ask questions about the architectural environment that impacts their life.
NINE I WILL … DESIGN A PERSONAL PROJECT
Not all of your projects need to be "work" or large scale! Small personal projects are a great way to flex your creative muscles and learn new skills in the process. At the end of the project you will have the satisfaction of having created and marketed something unique – and you never know what could turn into a lucrative product. Have you ever thought of designing an innovative piece of furniture, an architecturally designed playhouse, a futuristic kitchen gadget? The options are endless… unleash your creative spirit!
TEN I WILL … ENTER A DESIGN COMPETITION … AND WIN!
Design competitions offer an outlet to experiment with radical designs and different approaches, providing you with an opportunity to break with tradition and your usual style. So go ahead, I double-dog dare you … and when you win and are walking away with a international fame and fortune, please remember who gave you the inspiration. Good luck!