Silling Architects Partner With UT Architect Students To Study Town Center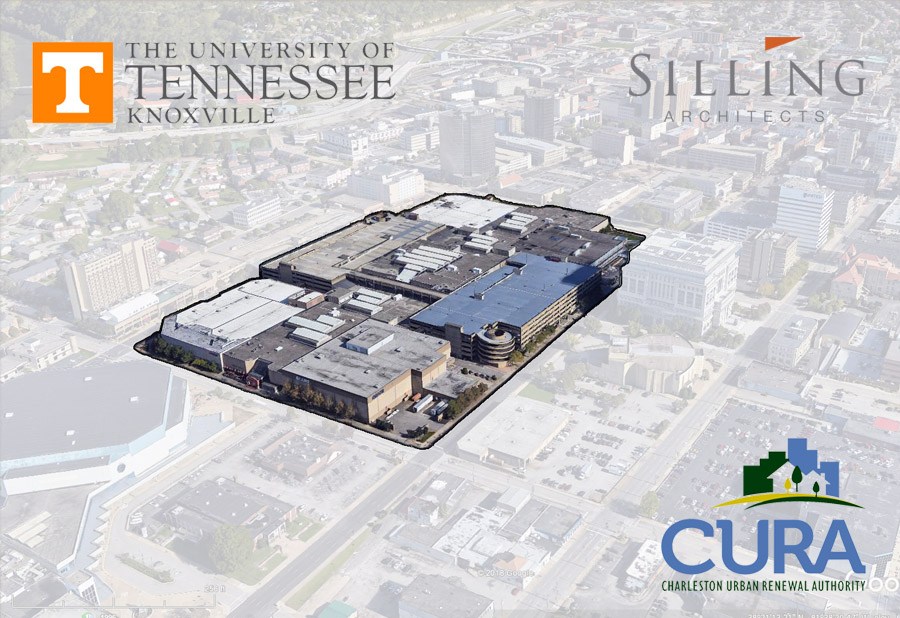 Silling Architects is pleased to partner with the Charleston Urban Renewal Authority in bringing the University of Tennessee, Knoxville, College of Architecture and Design to our city to study the programmatic and urban design challenges and opportunities of the Charleston Town Center Mall. A group of fifth-year undergraduate and graduate students in the UT School of Architecture will begin their study in September 2018, and area leaders have been invited to engage in the process.
Led by Professor Thomas K. Davis, FAIA, students will work to develop a wide variety of design solutions for the Town Center space. The process will kick-start with a two-day site visit on September 7, where the students and Professor Davis will engage with representatives of CURA, Silling, City administration, and community leaders. The UT group will be presented with a history of the downtown, review current Charleston masterplan strategies, and observe and document the existing mall physical and contextual conditions.
"Professor Davis has extensive experience with this type of urban design investigation in cities outside of the UT main campus," said Jody S. Driggs, AIA, principal, Silling Architects. "He has served as the program director for the UT College of Architecture and Design's Nashville Urban Design Summer Studio since 2011, where student work has germinated into real-world projects all over Tennessee's Capitol city and other towns throughout middle Tennessee."
Throughout the fall semester, multiple progress reviews and critiques will take place in both Knoxville and Charleston, and a final presentation of concepts will be made by the students to local stakeholders in late November. Area leaders will maximize the impact of this process, attending sessions where they can help the design students understand the economic, social, and cultural issues affecting the project site and offering valuable feedback to preliminary concepts, midterm progress, and final critiques.
"We can expect to see a diversity of innovative and imaginative solutions from students," Driggs said. "I believe our mutually beneficial purpose will challenge design students in their intellectual growth and challenge Charlestonians in considering what our Town Center can be."
The connection with UT stems from Driggs' experience as a college student. In the Spring of 1995, Driggs participated in a similar satellite studio in downtown Chattanooga while enrolled in the UT School of Architecture. Under the instruction of Professor J. Stroud Watson, an AIA Thomas Jefferson Award winner, Driggs and a small group of students invested a semester in study of the northern neighborhood of the Central Business District and development opportunities along Second Street as an extension of the catalytic Tennessee Aquarium. This experience served as the seed for his proposed collaboration with CURA Executive Director Ron Butlin in reaching out to UT.