"Reimagined" Library Earns Honor Award for Excellence in Architecture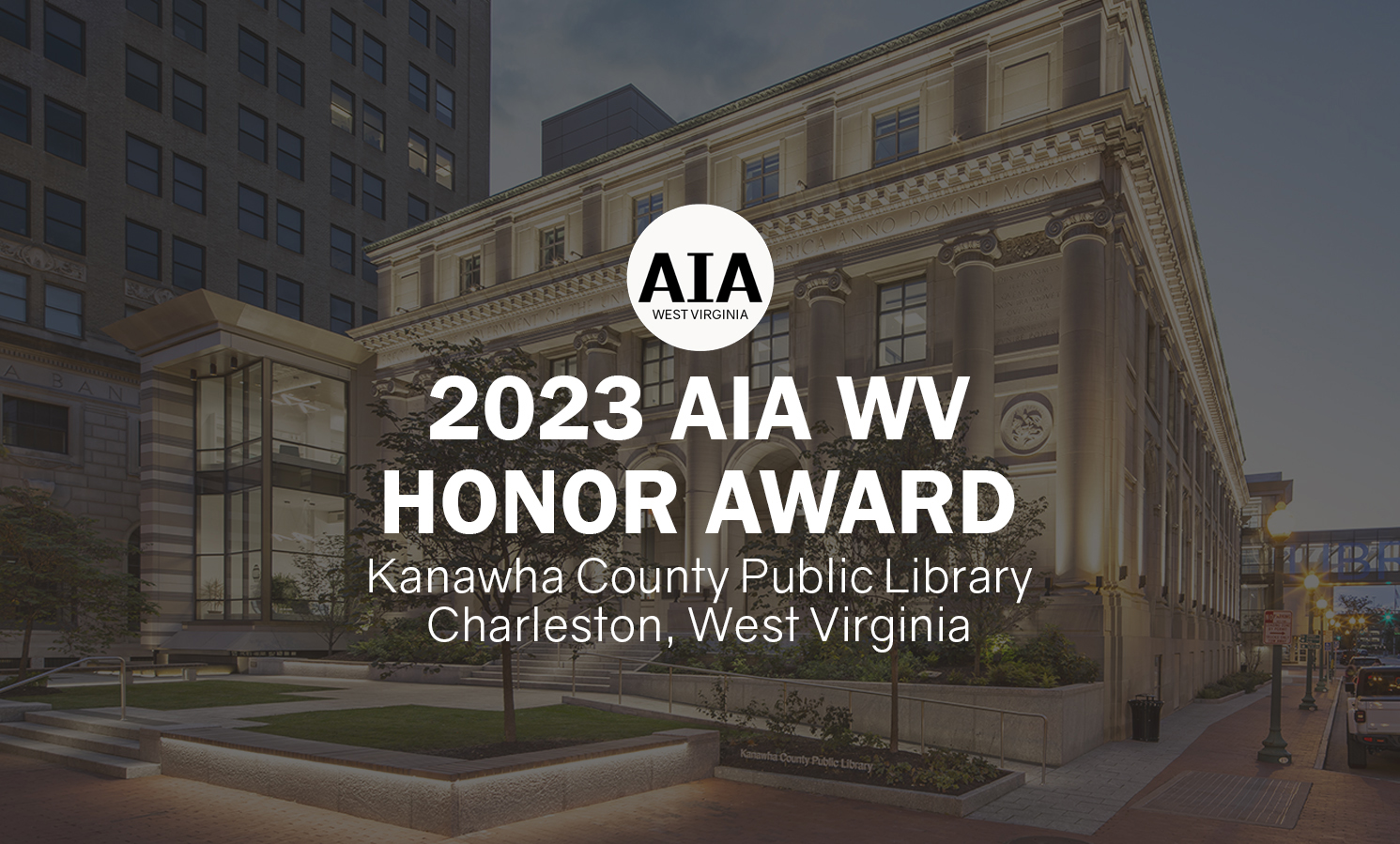 Kanawha County Public Library – AIA WV Honor Award
The design team of Silling and HBM Architects have reimagined Kanawha County's historic downtown library, orchestrating a dynamic transformation that features comprehensive renovations of the existing building, 20,000 square feet of new additions, historic preservation of the exteriors, improved urban greenspace, strategic lighting design, and environmental graphics as public art.
The Kanawha County Public Library's Main Library building was originally designed and constructed as a federal courthouse and post office in 1911. The library first occupied the building in 1966.  Over time, the library was no longer able to keep up with the evolution of library services, changes in material use, technology, and social programs.
The library anchors the corner of the Historic Capitol Street Corridor in downtown Charleston, West Virginia. The district is listed on the National Registry of Historic Places (NRHP 2006).  The district contains contributing structures in the Late Victorian and Late 19th and 20th Century Revivals architectural styles.  Occupying a full city block, the library faces Capitol Street which houses a series of historic commercial buildings all within a short walk from the Kanawha River and Haddad Riverfront Park.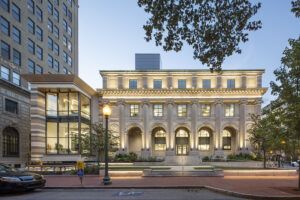 The form and massing of the new addition were derived directly from the historic architecture. Horizontal datum lines at the base of the columns, the main entablature, and the upper roof line were carried directly across to the new addition. This also created the same vertical hierarchy of "base" "shaft" and "capital" in the new addition that defined the original Neoclassical design. The rhythm of the typical bays was similarly captured to define the proportions of the new addition. This referencing of the historic building's base design elements lends the addition a highly compatible feeling despite its more contemporary character.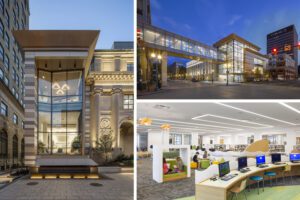 The selection of materials for the new addition was also driven by a desire to be sympathetic and respectful of the historic building. Large expanses of glass provide the addition with a much lighter touch and allow the massiveness of the heavy stone building to remain visually dominant, while also preserving exterior visibility of the historic south elevation concealed by the addition. Solid sections of the addition employ materials that are compatible in tone and character with the existing stone, while also being differentiated as clearly contemporary.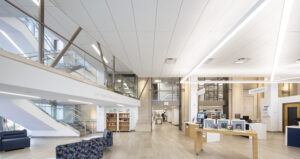 The re-imagined library's overarching goal was to allow for continual growth within its walls to support library services and materials while becoming the community hub for downtown Charleston and the Downtown Historic District which the library supports. The success of this project has sparked widespread reinvestment and revitalization taking shape throughout downtown Charleston. The library can support these endeavors through newly available community meeting spaces, small business services, and job training support.
By renovating and expanding its century-old space, the Kanawha County Public Library has revived an iconic landmark in downtown Charleston and brought an exciting, fresh new space to serve as the community's cultural living room and express the library's stature as a "palace for the people."
PHOTO CREDIT:  Josh Beeman Photography