Charleston Boy Scouts and a Dr. Who Dalek Help "Exterminate" Hunger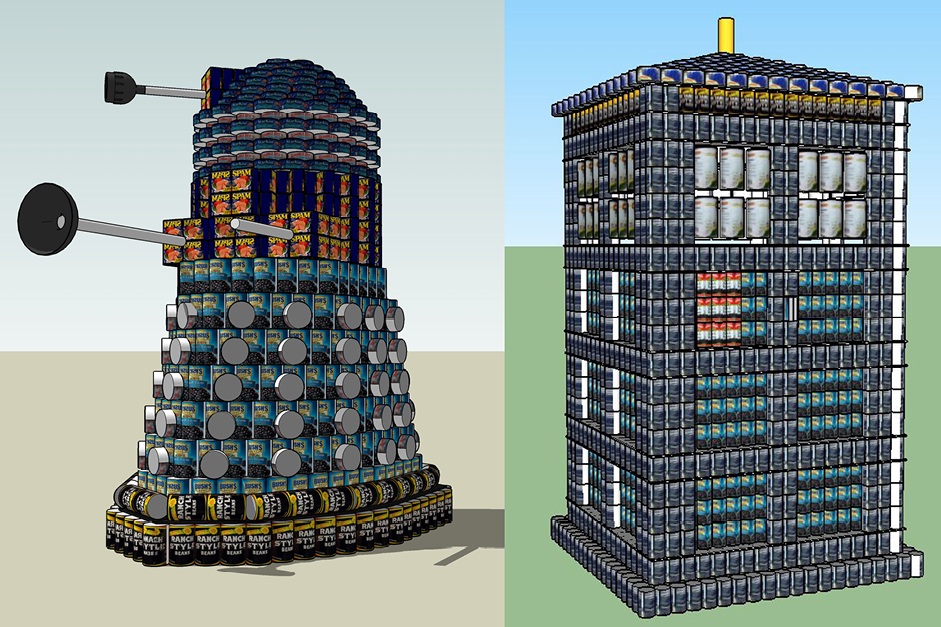 Charleston Gazette Mail
Charleston, WV,Charleston, WV, April 2015 – A vault, a Disney snowman named Olaf and the Braxton County Monster were assembled with cans of food Saturday, to help alleviate hunger in Kanawha County. The structures, along with four others, were designed and built as part of the ninth annual "Canstruction" competition, held at the Charleston Civic Center during the West Virginia Home Show.
Members of Boy Scout Troop Number 5, of Charleston, created a "Dalek," an extraterrestrial cyborg from the TV show "Doctor Who." The scouts discussed various design ideas and held a meeting at the Ashton Place Kroger to review types and colors of cans for the project. The group worked with Silling Architects, a local architecture firm, to complete the design. Henry Leef, 13, of Charleston, said he learned a lot about design and about the importance of food drives to the community. Eleven kids worked on the project, consisting of 897 cans. "To come out here all day and see it come to life and all the work we put into it together," Leef said, was his favorite part.
The event brought in more than 20,000 cans, totaling about 17,000 pounds of food. The Covenant House expects the food to provide more than 20,000 meals. "The demand for food is so high in Kanawha County," said Angie Douglas, Covenant House development coordinator, adding that the event helps "tremendously." When the event first started, it was geared toward design, engineering and architecture firms. It has since blossomed further out into the community, Douglas said. That's a good thing, because demand for food assistance has increased recently, she said.
Last year, Covenant House helped feed 12,000 people. The year before, it helped feed 8,000 people, Douglas said. The event is Covenant House's biggest food drive of the year.