Silling Architects Featured In 2-Part Series On Judicial Facilities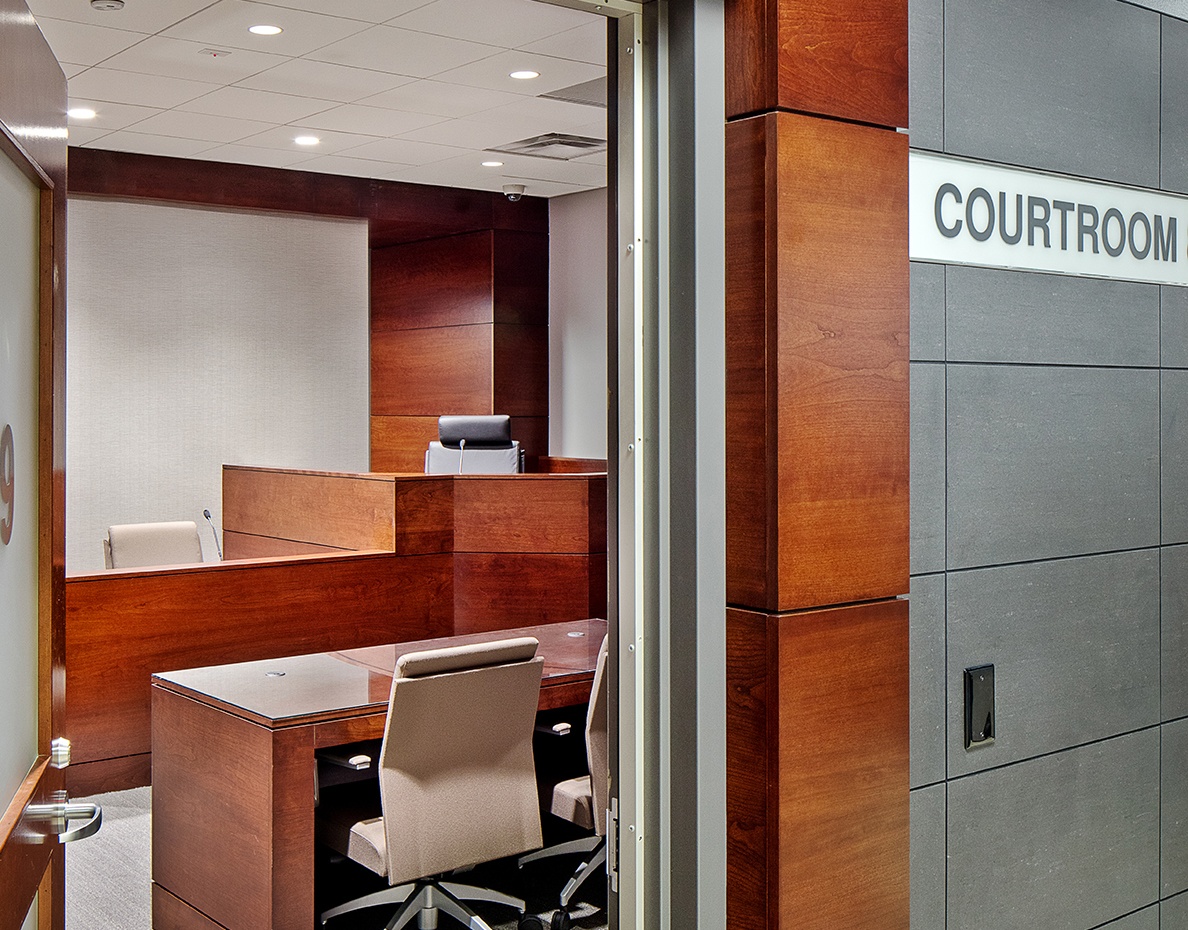 By Darlen J. Swiger, Clarksburg Exponent Telegram | September 2017
Part I – "Constructing New Judicial Annexes Has Benefits, Officials Elsewhere Say"
CLARKSBURG — If Harrison County officials decide to construct a new judicial annex instead of renovating the courthouse, they won't be the first in the state to do so recently. Lewis County officials built a 28,000-square-foot, two story annex directly behind the courthouse in 2013 at a turnkey cost of $8.6 million. That cost included architectural services, construction and furnishings. Construction took approximately 15 months.
Silling Architects of Charleston, which served as the designer for the Lewis County project, has been hired by the Harrison County Commission to identify two sites close to the courthouse in Clarksburg that could fit the needs of the county court system.
Lewis County Administrator Cindy Whetsell said security needs are a major factor in the decision whether to build a judicial annex and revamp an existing building. "With the courts, there are a lot of video and audio needs," Whetsell said. "It was simpler, in our case, to start out with a new building. The overall cost benefit provided a better, more secure product in the end." The magistrate, county clerk, adult and juvenile probation offices, sheriff's department and family court are located on the first floor of the Lewis County judicial annex. The circuit court and court offices, prosecutor's office and judicial suites are on the second floor.
Another area where officials decided on a new building was Raleigh County. Mike Moore, Director of Business Development for Silling, explained that the Raleigh County Judicial Center was unique in that the county bid the project in two separate phases several years apart at a total cost of $15.6 million. The entire project took 25 months. "Phase 1 was for the building shell, while Phase 2 was a separate bid package for the interior finish out and ultimate completion of the building. The first phase included demolition of previous existing structures and site development," Moore said. "There were obvious inefficiencies in the county electing to complete the project utilizing two separate bid packages, especially in construction time duration. If this project had bid under one bid package and one general contractor, a more typical construction duration would have been realized."
Tom Potts, co-owner and president of Silling, said last week's case in Steubenville, Ohio, where a judge was ambushed going into the courthouse, shows the importance of keeping the public and court staff separate. "They also must isolate in-custody defendants and manage them in a central holding environment where they can be brought to the courtroom by way of their own circulation system," Potts said. "In a new courthouse, courtrooms are located on separate ends of the building. A court building should express the power and meaning of the court."
He said they have gained a sense of Clarksburg and the way the downtown community works in an urban way. "Our hope is we can take a piece of property and make a good recommendation on what works in Clarksburg. We are going through the process of best options and making recommendations and forming what the best options are," Potts said.
Part II – "Some Judicial Annexes Reuse Existing Structures Due To Availability"
CLARKSBURG — The Harrison County Commission is working with Silling Associates of Charleston to come up with proposals for a courthouse annex. Commissioners have said they are open to considering property contiguous to the courthouse to build an annex or an existing structure that could be retrofitted to house the county's judicial workforce. Other areas have found success with either approach, but officials must be judicious in considering their options in regards to utilization and costs, according to those involved with those projects.
The Monongalia County Commission elected to transform the former Harley O. Staggers Federal Building and regional post office into a Justice Center in 2011. The commission paid $700,000 for the building. Prior to hiring Silling, the county directly procured services for the removal of asbestos and select interior demolition work. Massaro Corp., Pittsburgh, was the contractor. The construction cost was $17.27 million, which came in under the $17.3 million budget with no change orders. There was a 17-month construction period.
Monongalia County Administrator Rennetta McClure said they were able to utilize a building that was going to go up for federal auction. "It is a very large building in a prime location that we were able to retrofit. It is approximately two blocks from the courthouse. It opened in October 2015," McClure said. "We have three circuit court judges, four magistrates and two family court judges. It is the best possible scenario we could have ask for."
Tom Potts, co-owner and president of Silling, said the project was a unique and exciting opportunity that made responsible use of public money while contributing to an overall reduction of the environmental impact. The 80,000-square-foot, four-story building includes an enclosed parking garage attached to the rear of the building and an exposed rooftop parking deck that affords secure parking for judges and staff. The 1970s-era structure did require hazardous materials abatement, Potts said.
"We did a walk-through of the building to see if it made sense before they purchased the building. Compared to what else was available in downtown in proximity to the courthouse, it was the best option. That building was on their radar screen, so it was 'how do we make it work?'" Potts said.
In addition to its location, the other benefit was secure parking below grade. "This was set up to handle a large amount of staff parking. It is also where in-custody defendants are delivered into the building with a central loading level and secure sally port," he said.
The downside was the exterior, which was a fortress with thin window openings. There were major facade changes. "In modern courthouses today, the whole idea is accessibility and visibility and the courts being open and the justice process being transparent to the public. That is the paradigm," Potts said. "One of the major moves we made was to modify it with secure zones and public zones to make it work."
When the county buys a building to make it a court facility, the separation of public and the staff and in-custody defendants is crucial, he said. Circulation systems include stairs, elevators and hallways. Officials have to develop three systems. In a new building, it is often easier to do that, Potts said. "We had to add three elevators, in addition to the public elevators, in that building," he said.
It is very difficult to compare projects from different counties to determine the most cost-effective, officials said. The size of the court systems in each county must be taken into consideration. Raleigh and Monongalia county courts are similar in size to Harrison County.
Buchanan County Court in Grundy, Virginia, elected to add on to its courthouse following public outcry not to tear down the historic structure. "They are now going to add on to and renovate the building. What that entails is the county has to completely leave the building for at least 18 months," Potts said. "The total project is $12 million for a smaller court annex with a smaller county population. This building has been added onto three times. It will never function the way a brand new building will."
In Medina, Ohio, judicial officials will remain in their building while the designer and contractor add on to it. "The contractor has to work within a certain constraint of hours as not to interrupt the court," Potts said.
With a courtroom, there's a standard in how high a finished ceiling needs to be. With other buildings, it is a situation where ceiling heights are restricted. The federal minimum is 14 feet high. Typically in West Virginia, a circuit court room is 11 to 12 feet. The structural systems of other buildings don't allow for that type of ceiling height, Potts explained.