Police Officer Morale and Operational Efficiency Significantly Improves With New Building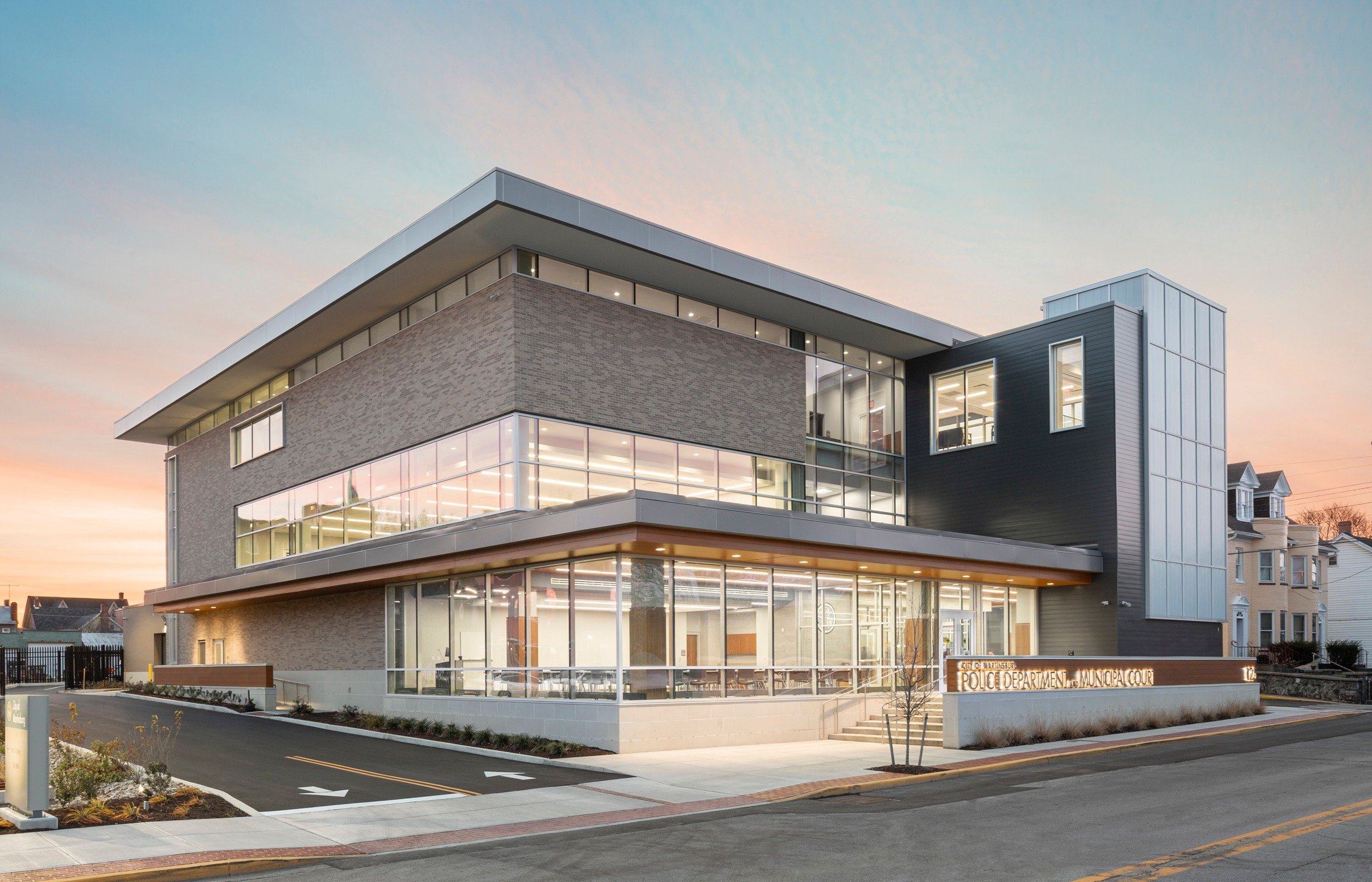 An Interview with Martinsburg Chief of Police George Swartwood
Project Overview
The design of the new Martinsburg Police Department & Municipal Court project is contemporary and relevant within its historic context. It is transparent and accessible while maintaining safety and security. It cares for the well-being of its public users of the courts as well as its judicial and law enforcement staff. It is executed in a way that elevates the spirit of place and adds value to its context. It places value on the community it serves and the public servants who serve and protect.
Meet Chief Swartwood
Chief Swartwood has been a member of the Martinsburg Police Department for more than 36 years. He has successfully progressed through the ranks of Patrolman, Detective, Detective Sergeant, Detective Lieutenant, Captain, Deputy Chief, and now as MPD's Chief of Police. Chief Swartwood is a graduate of the West Virginia State Police Basic Academy and a graduate of the prestigious FBI National Academy and many advanced training schools in criminal and drug investigations. He has performed in hundreds of criminal cases and their successful prosecution in the areas of violent crimes, property crimes, and illicit drug investigations.
Silling Architects Question: Where was the previous location of the Police Department, and what were the conditions like and how did they impact your operations?
Chief Swartwood: We were formerly located in City Hall in downtown Martinsburg, WV. We had the first floor in a building that was built in the late 80s. I was a part of that project as well. I was an officer then. We were extremely cramped in that work environment. We turned out more hard copies of reports than any entity in the City with arrests, filing of reports, taking statements, etc. Our officers were doing all of that from four computers in a small back room that also had an in-custody holding area right next to our officers. Each shift, all day long, 24/7, they would do report work with somebody that was under arrest or was handcuffed right next to them in the same room which obviously was not a good environment. It was not productive. It was not good for morale. It was just a very crowded workspace was the biggest thing. Our records-keeping was the same way. Our clerks were put in a small room in cubicles surrounded by boxes and filing cabinets full of long and short-term record storage. We were going off-site many times just to store hard copies of reports. Our dispatch (our police department dispatches our own people) was in the front of the building and they were not only our dispatchers, they were also our greeters for somebody that came into the building seeking police attention and/or directions to go upstairs to City Hall. Our dispatchers had a dual role. They had to answer people walking in the front door, plus dispatching emergency calls to our people and that had to change.
Silling Architects Question: Describe for us your thoughts on the relationship between City leadership and Police leadership and how well the City worked with you on this project. How important was their support and cooperation to the department and the success of the project?
Chief Swartwood: Our City Council, our City Manager, Mr. Mark Baldwin, our Finance Director, Mark Spickler, former Mayor George Karos, present Mayor Harriet Johnson, were tremendous in making this whole building come to fruition. By thoughtful financial planning, saving, they were able to keep everything moving toward the goal of a new Police Department and Municipal Court facility. The biggest thing that I can't say enough good things about is that they did it without any other taxes, any other levies, any other high-interest loans, any other bonds. The stewardship of our tax payer dollars was just tremendous.
Silling ArchitectsQuestion: Describe your thoughts on how our Design Team worked with you and your staff to develop the overall design of this project.
Chief Swartwood: I can't say enough good things about Silling. I truly can't. They came to us, they sat down with us, they heard our needs, they understood what we wanted, and let us tell them as police officers: this will work, this won't work, we'll have to change this, we'll need this here. One of the biggest things I wanted was to give ownership of the building to our rank and file, to our patrol officers. That's the heart of it. To let them have their own desk, their own computer, their own little place to put a picture of their kids, their wife, their husband, and have a little bit of storage space of their own and now we have that. Each officer has their own desk, their own space that they can call theirs. That brings great ownership of the building to each officer. That brings higher morale because now they're more efficient, they have places that they can work, they can store stuff, and they feel more self-worth because we cared enough to share that with them. All this came from the team that I had working with us from all sections – from patrol, from detectives; everyone provided input, and agreed Silling was the company to use. I can't think of a better one. You were able to listen to us, make changes where changes were needed and to turn all of that into this great building that it is … and to also do the same thing with our Municipal Court, which is on the third floor here. To bring a separation of Police, City Hall, and the Court by placing it on the third floor so it's more efficient. So, my hat's off to you guys and thank you. It was a tremendous project and I'm very proud to say we're in this building now, our dispatch loves it. The one request that they made of me when we were doing this: "Chief, do us a favor, take us with you on the second floor. We don't want to be on the first floor as the greeter anymore" and you were able to do just that, so that's really good.
Silling Architects Question: At times there can be a fear from city/county leaders that the users of the building – in this case, law enforcement – will ask for "too much" in their building. What would you say to those local government leaders that are reluctant to allow significant user group/stakeholder engagement? Did you get any pushback from the city during the design process?
Chief Swartwood: I've been here 36 years, with this Police Department. I can't thank the city enough for the opportunity that's it's afforded me. My brother was a police officer and a lieutenant here before me and this is my third police department building project. This building is so much advanced overall and everything we could ever expect or imagine. But we had good leadership from the City Council, the City Manager, and the Mayors, but definitely with the City Manager to entrust us to make good decisions. It's like TQM (Total Quality Management), you have to allow good people to do good work for you. You have to allow them that. Not to have that input from the police, their chief, their staff, their people that they trust, to help guide you on what is needed in the building, would be a huge mistake. You have to allow that to happen because it is crucial and essential for the everyday workings of a police department to have the police make those decisions of how the building is going to operate. We were allowed to do that and I have to say that I was so proud of my people because when we were even looking at furnishings, we knew the low , middle, and high budget. We told them right up front, we're not going high budget, that's not going to happen and I'm not going to allow that to happen. We're going to keep the budget towards the middle or just a little above. And that's what we've done and we got great quality furnishings and equipment. Everybody understood it. You were correct, you're only going to get one shot at this design and it's got to be user friendly to the people that are in it … and that's my police department. So, I would implore people that are going to take on this task to get with their cities, get with their government, their city managers, their mayors and speak to them and let them know that. Let them show you what they can do. Let them give you their ideas and insight on the way that the police department functions.
For Example: When we were first designing the building, we did not want prisoners coming to municipal court ever to be outside of the building or have free reign through parts of the building where civilians could be going to court. We stressed that to Silling and we showed them how we wanted the flow to work. In designing an enclosed vehicular sallyport, we understood the challenges of backing a large 15-passenger van from the Regional Jail in and out of the facility. As a result, we decided on a drive-through sally port so that we could come in from Race Street and exit going out College Street. These are just simple design solutions that really work well for us. The importance of this insight is just immeasurable.
Silling Architects Question: How would you say this facility is going to impact your ability to recruit and retain quality officers and staff?
Chief Swartwood: I have to tell you, I've had visitors, and with COVID-19 we can't bring in as many people as we would like to right now, but we will. Every time that we get somebody that's interested in this department or is planning to apply with this department, we put a picture of the building right out on our recruiting poster showing how modern it is, how functional it is, how cutting edge it makes our police department. It is a great recruitment tool. It is not the only tool out there by any means. Our most important asset is our men and women, our police officers, our dispatchers, our people. But it is a great tool to show the cooperation between city government, the city police department, and our community. We're very much a part of the City of Martinsburg.
Silling Architects Question: You mentioned community which leads to another question. We designed the community room on the first floor that also serves as a training room. How important was that space to you and the department and how do you guys plan to utilize that room for your staff and the community?
Chief Swartwood: I have to tell you that the community room is one of the shining stars of this building. We were able to name it in honor of our former Mayor, Mr. George Karos – "The George Karos Community Room." We never had a training room in our former building where we could have our police officers attend a class and bring instructors in to help teach new and better techniques. Often times we would request banquet rooms at the Holiday Inn to hold classes. Now we are able to put on cutting-edge technology classes with all the equipment that's in there. Anyone can hook up to a computer or an i-Pad. Projection screens come out of the ceilings so we can better show what we're trying to demonstrate during the class. Now we have instructors that come to us loving that they can put on a real-life class with real interaction and we can still comply with COVID-19 requirements and keep appropriate distance between ourselves to put on such a class. That's a great, great attribute of this building.
Additionally, when we want to share something with our community, we can now invite them in to see us. We can invite them into this room, we can talk about problems, we can talk about issues, and we can talk about better ways that we can facilitate and help our community as a police department. This is our town, this is our city, and when our neighbors have questions or concerns for us, or can help come up with a program to better our community, we can bring them in here and showcase this department and what we have to offer. That's a huge asset that we've never had before … and now we do.
Silling Architects: Coming into the new building from the facility and the conditions that you had before, how do you really feel that it's impacted the overall morale of your officers?
Chief Swartwood: Well, I have to tell you, when this building was being erected, our staff used to sneak over here all the time at night and go through it. Just to see what's what because they were curious. Coming from undersized offices and spaces in our former building, they were so happy to see the larger offices and work spaces. The evidence room is state of the art, it's huge, and much needed. You know there's so much more space. You took care of us, and our officers now have their own separate work stations in a large open patrol room. We have our own separate areas. When someone comes in now to the beautiful lobby and up to the second floor to where the police department is, an officer can quickly come out, greet them, and bring them to a private and secure interview room to discuss their problems or issues without being in the inner sanctum of the police department space. To be able to bring people in where you can devote all your attention to them and sit in a private room and no one in the lobby can overhear it, that's huge. That's something we've never had. That's something that's just tremendously well thought out by the police officers that helped design this. So, to tell you how it affected us … we were amazed by it! Everyone truly liked it. I think it raises morale exponentially. Morale is lifted just by knowing you're coming to work in a building where you really want to be. They know it is the best in this state, that's absolutely functional, and such high quality. It makes our officers more efficient, because they are able to do their job better with the equipment that's now in this new building and the way that the building is laid out. For example, dispatchers eat at their desk all the time. So, we built them a separate kitchen right next to them so they could have that. They said, "oh man, that was so well thought out." I know it doesn't sound like much but when you've never had it, it's a big deal.
Silling Architects Question: That's great to hear. I know I can tell you how much we enjoyed working with you guys and how much we really appreciated all of the input that you and your staff gave us. I can't stress that enough. We tell clients all the time: it's your building. We can't design the building to meet your needs if you don't tell us what your needs are and share with us all of the ins and outs of how you operate.
Chief Swartwood: Absolutely, I have to tell you Brian, you, Jody and Glenn, everyone at Silling, has been so stand up with us and willing to work with us and willing to listen and tell us yeah we can do that, absolutely, no problem, we'll get that done, we'll put it in there. But, you, yourself, I can't tell you the countless emails and phone calls we had going back and forth with each other, telling you we need this, we need that, we need you to look at this, this is what we think, and to make it all work. Without that cooperation, I don't think it would have ever come to fruition. You know my deputy chief, Erin Gibbons, all of my command staff, everybody played a role in bringing this building off as well as it is presented, as well as it functions every day. I can't say enough about your company for standing with us every step of the way and by always being present in the building meetings and telephone conference calls with our City Manager. Seeing the progress of the building, talking to each individual so we made sure we were on track, and going where we needed to go, and if there was something that needed to be changed, we could discuss it in person or on the phone which was tremendous. I would urge anyone to have at least once-a-month meetings with all entities involved just to make sure you keep on track. I think that was crucial.
To say that I am proud of this building, would be a huge understatement. I'm elated by it. I think it is the prettiest municipal police department and court room in the state of West Virginia. I think it is the most modern and the best that I've ever seen in my career and I've been doing this for 36 years. I've been around a little bit, other parts of the country, other parts of the state by all means, and I hear that from everyone that comes through this building. So yes, we're very, very pleased and very satisfied with it and we just look to do bigger and better things. Not only because of my great people, I've got the best police department in the world, but also because of the facility that we now work in.
Silling Architects: Chief, we very much appreciate all that. We know the very tough and challenging job that you and your folks have to do every day and we've come to really appreciate what you guys do and it's great to be part of a project that means as much as it does. This is now our fifth law enforcement facility we've been a part of here in West Virginia in recent years, and it's nice to see more of our cities and counties are starting to get on board and recognizing how important it is that our law enforcement folks have first-class, quality facilities to work from.
Chief Swartwood: When we all came together to make this happen it ran very smoothly. Silling understood that listening to the needs of my men and women was paramount allowing us to give our ideas about what it takes to make this police department run with better functionality and higher-efficiency. That's what you trusted us with and I think it shows every day in this building. How open it is, how transparent it is, with so much open glass, our guys and girls, our men and women, love the natural light that comes into this building. It was just innovative and refreshing when we saw the architecture of this building and how it was going to look even before it was built. We embraced it fully and all our people loved it. Allowing us to have input on everything: the color of carpet, the color of tile, the textures, the furniture, everything was allowed to be embraced by us and to give our opinions on it was a tremendous asset and help. We can't wait until we can open it up more to allow our neighbors and our community to come into our police department and experience it firsthand because I know that they'll love it just as much as we do.
"We look forward to other projects happening like this around our state. Right now, by far, we have the best equipped, the best designed, and by far the most gorgeous police department that I've seen!"