OHIO – Design For Joint Justice Center Approved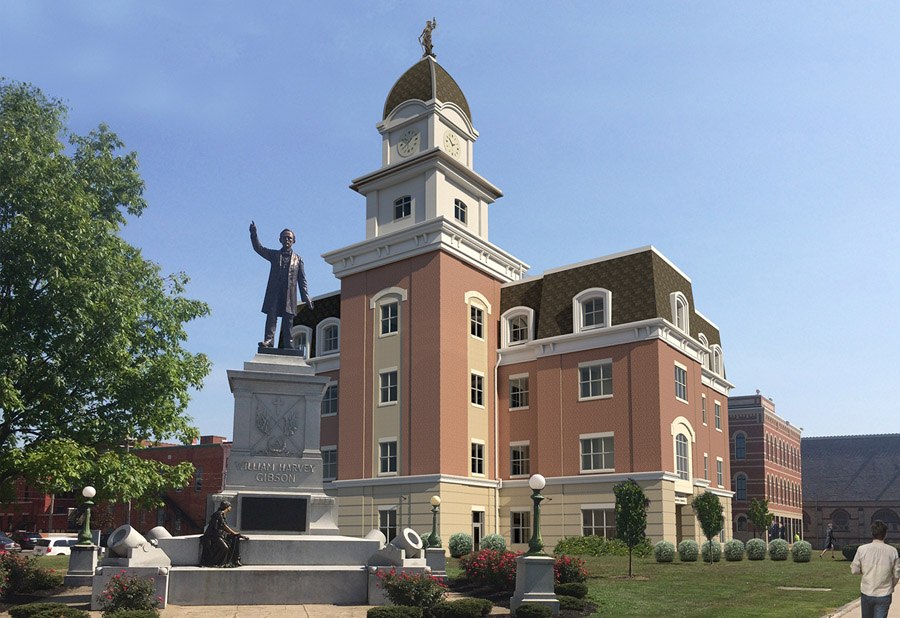 The Advertiser-Tribune, April 6, 2016
Tiffin, Ohio – The architect's design for the proposed joint justice center was approved by Tiffin's Architectural Board of Review in its meeting Tuesday. Tom Potts of Silling Architects presented conceptual artwork for the four-story facility, a collaboration between Tiffin and Seneca County which is to feature a mansard roof, storage mezzanine, cupola and entrance on Market Street. The design was approved by Tiffin City Council Monday and county commissioners Thursday.
Potts said one of the project's challenges was to create a building made with modern materials to serve contemporary needs that has a sense of historical significance. "If you try to duplicate or replicate an historic building, then it's Disneyland," he said. "It isn't authentic unto itself. This is 2017, and what you're doing is, you're using modern materials and you're trying to walk this line of being able to make a modern statement and an historic statement at the same time." He said the project ought to be an important building in the community. "It is a courthouse," Potts said. "It cries for monumentality."
Board member Jessica Williams said she thought the conceptual drawings looked good. "I like the design," she said. "I think it's a good mix of modern and throwbacks to the old, without looking kitschy." Board vice chair Ann Gase expressed similar enthusiasm. "I love it," she said. Later in the meeting she added, "I think it looks classy."Board member Mark Steinmetz said some in the community still are angry about demolition of the 1884 Courthouse in 2012 and will not be happy with attempts to recapture elements of that courthouse in the new facility. "I represent the group of people in Tiffin who still have very hard, open wounds about what happened to the old courthouse," he said. "That is to say nothing against the fine people here, the wonderful designs and all the fine suggestions that went on.
"But to me, that courthouse was extremely special, and when it went down, we did one of the dumbest things we've ever done. To put something up to mimic it, to even have it in the same location, in some ways, to some people is sacrilegious."
Seneca County Commissioner Mike Kerschner, who attended the meeting, said he understood Steinmetz's point but felt that it was important to acknowledge the 1884 Courthouse. "There is a lot of empathy for the folks that wish that courthouse still stood," he said. "But do you try to replicate some things and bring the memory back, or do you just ignore everything that ever was there and do something completely different? That's the discussion that we add to it. "The reason that we've done some of the things that we've talked about doing is to try to stir that memory again, or at least keep it somewhat alive." Kerschner said he hoped construction of the new courthouse could initiate a "healing process."
Steinmetz said he understood Kerschner's reasoning. "If it helps a young person or somebody else reflect back to what was there before, that's a good thing," Steinmetz said. Because he works for the city, Steinmetz recused himself from voting on the design, as did board chair John Huss, who was on the project's exterior design committee. The remaining board members approved the design unanimously.
After the meeting, Huss said he thought the board made the right decision, as he had been impressed with the design from the moment he saw it. "When somebody showed that to me, I went, 'Wow,'" he said. "I was so impressed."