New Cabarrus County Courthouse Design Concept Unveiled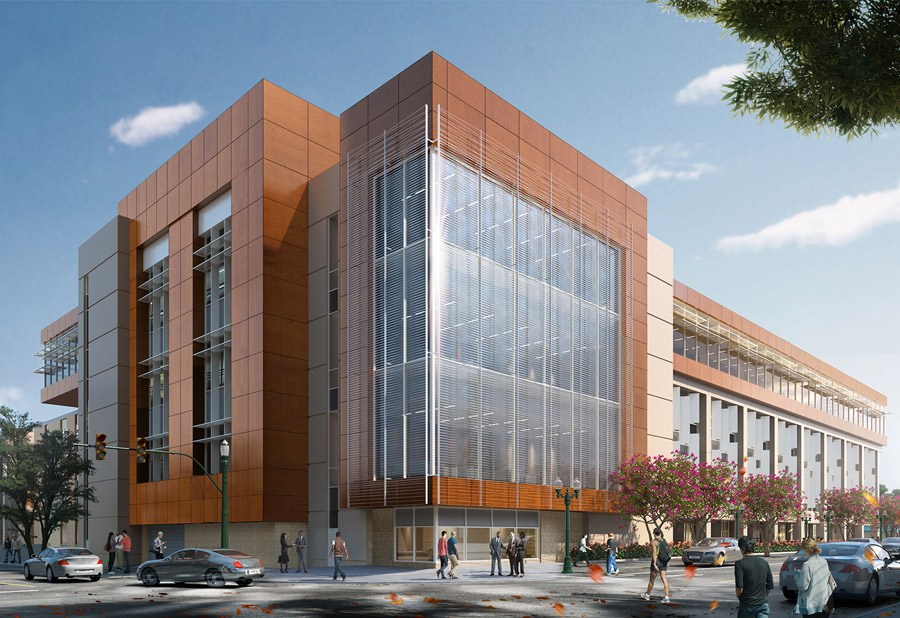 Independent Tribune, Concord, NC
Cabarrus County Commissioners on Monday experienced the first 3D images of the possible future of downtown Concord, viewing renderings of the Cabarrus County Courthouse as it could exist at the completion of the project. During commissioners' agenda work session, officials also welcomed the public's input and announced a Q&A information session for July 10.
The multiple Courthouse views will be on display for comments, questions and general thoughts during the drop-in session from 3 to 8 p.m. in the rotunda of the Governmental Center at 65 Church St. S. At the same time, the County will host a live Facebook chat for those who cannot attend the session in person. Officials encourage the public to become familiar with the project – even those who don't have courthouse business. Plans include the addition of a public plaza along the current Means Avenue, which will serve as a catalyst for the continued rejuvenation of downtown Concord.
… this place will transform itself into a place for people; a rich pedestrian experience and a kind of connective element that joins Union Street and Church Street as an outdoor space that serves the entire city," said Jody Driggs of Silling Architects.
In addition to the public Q&A, project officials continue collaborating with Courthouse employees on the building layout, and plan to deliver the full schematic design by the end of August. Actual construction on the 250,000-square-foot expansion/renovation will begin in 2020. Officials expect the entire project to last between 24 and 28 months.
The project will update the aging 45-year-old building and help with an ongoing increase in local court use.
Means Plaza. The expansion/renovation project includes a proposal to relocate the courthouse entrance to Means Avenue, which allows for better access from both Church and Union streets.