Pennsylvania Judicial Center Receives Honor Award for Excellence in Architecture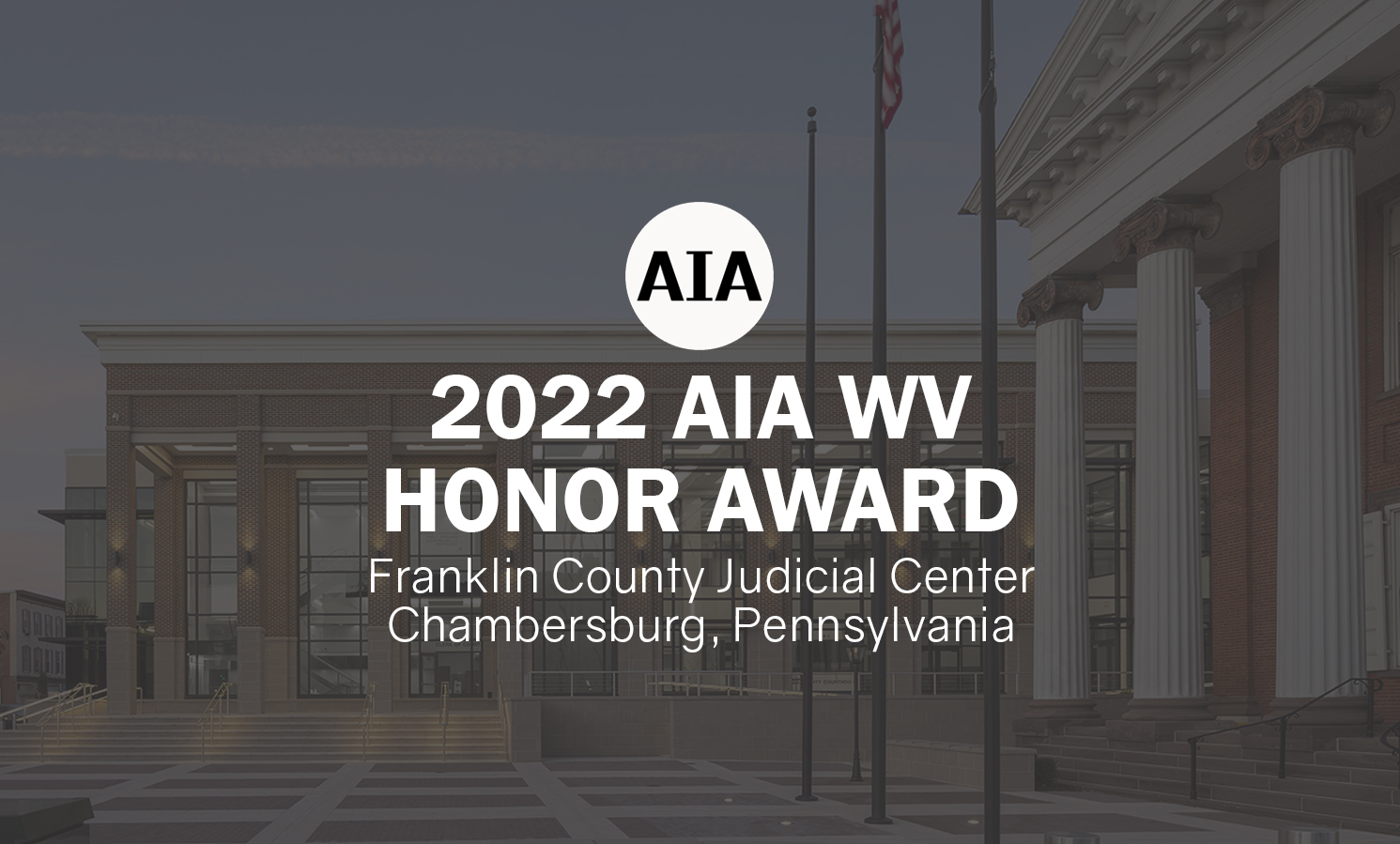 Franklin County Judicial Center – AIA WV Honor Award
The new Franklin County Judicial Center project is located along Main Street in Chambersburg, Pennsylvania, adjacent to the prominent vehicular fountain square and connected to the historic Franklin County Courthouse and entry plaza.  The design solution seeks to restore the civic and iconic presences of the historic courthouse through careful consideration of placement, orientation, scale, rhythm, proportion, and materiality.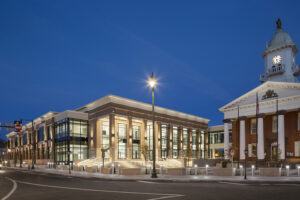 Primary departments and judicial functions housed within the new facility include the Common Pleas, District, and Magistrate Courts, as well as the Clerk of Courts, Prothonotary, Court Administration, and Sheriff, with the Public Defender housed in the ground floor of the original courthouse.  The upper level includes courtrooms of varying sizes and supporting jury deliberation suites, as well as collegial chambers for the judges, assistants, and law clerks.  Conference rooms located within both the public and secure zones at the front and rear of the courts serve private attorney-client and prosecution-defense dialogue.
The subterranean sallyport with central holding offers isolated, secure elevator transport of detainees to intermediate holding spaces between the paired court sets.  Similarly, below grade protected judge's parking provides access to secure vertical circulation paths to the chambers above.  A subtle, minimally detailed pedestrian bridge softly engages the historic structure to include the original ceremonial courtroom space as a functioning judicial asset.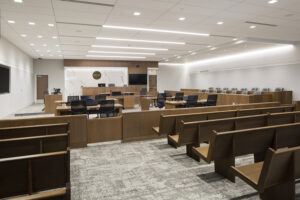 The two-story entry lobby is strategically placed biaxially with the historic courthouse, bowing hierarchically to the campus center piece while presenting a clear single-point of entry for queuing and screening of all visitors.  The pedestrian approach to the welcoming entry colonnade is served by a grand stair and plinth, separated from but in dialogue with the base of the historic courthouse, and the new entry and lobby elements form a supportive and sensitive edge to the historic courthouse plaza.  Clerk and prothonotary spaces are placed in immediate proximity to the public entry for ease of access and clear wayfinding for non-courts related users, and the high-volume Common Pleas and Central Court are located on the ground floor, removed from the busier lobby and clerk spaces, and served by expansive public pre-function circulation and waiting areas.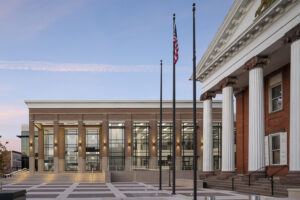 Ultimately, the Franklin County Judicial Center restores and supports the monumental and iconic civic presence of its original predecessor, doing so with a sensitivity to scale, setback, connection, materiality, and an appropriate acknowledgement of its place in time in the evolution of Chambersburg's downtown core.  The project's planning expertly responds to the rigorous and infallible principals of modern courthouse zoning, and is executed with an empathy for all public, judicial, and administrative users of the court system."