Silling Architects Featured In WV Executive Magazine – 2017 Winners Circle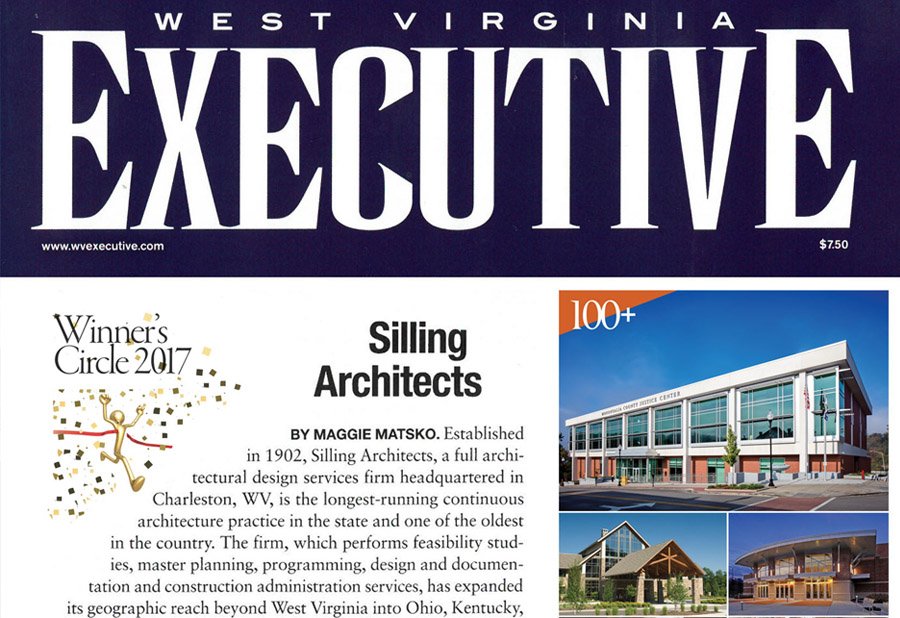 By Maggie Matsko, WV Executive Magazine | June 2017
Established in 1902, Silling Architects, a full architectural design services firm headquartered in Charleston, WV, is the longest-running continuous architecture practice in the state and one of the oldest in the country. The firm, which performs feasibility studies, master planning, programming, design and documentation and construction administration services, has expanded its geographic reach beyond West Virginia into Ohio, Kentucky, Pennsylvania, Virginia, Maryland and New York.
Over the last century, Silling has developed an expertise in building typologies centered on worship, education, workplace, health care and custom residential markets. Its reputation as a leading designer of courthouses and judicial facilities throughout Ohio, Pennsylvania, Maryland and Virginia took root in the late 1990s with the completion of the Putnam County Judicial Building in Winfield, WV. In total, Silling has managed the design of more than $150 million in out-of-state court construction projects since 2007 in addition to its continued projects in West Virginia.
"Over the next several years, we believe Silling Architects will be recognized as a regional design expert with the ability to partner with local architects of record to accomplish an even greater volume of work," says Jody Driggs, Silling principal.