Drone Photographer Captures Unique View of Downtown Charleston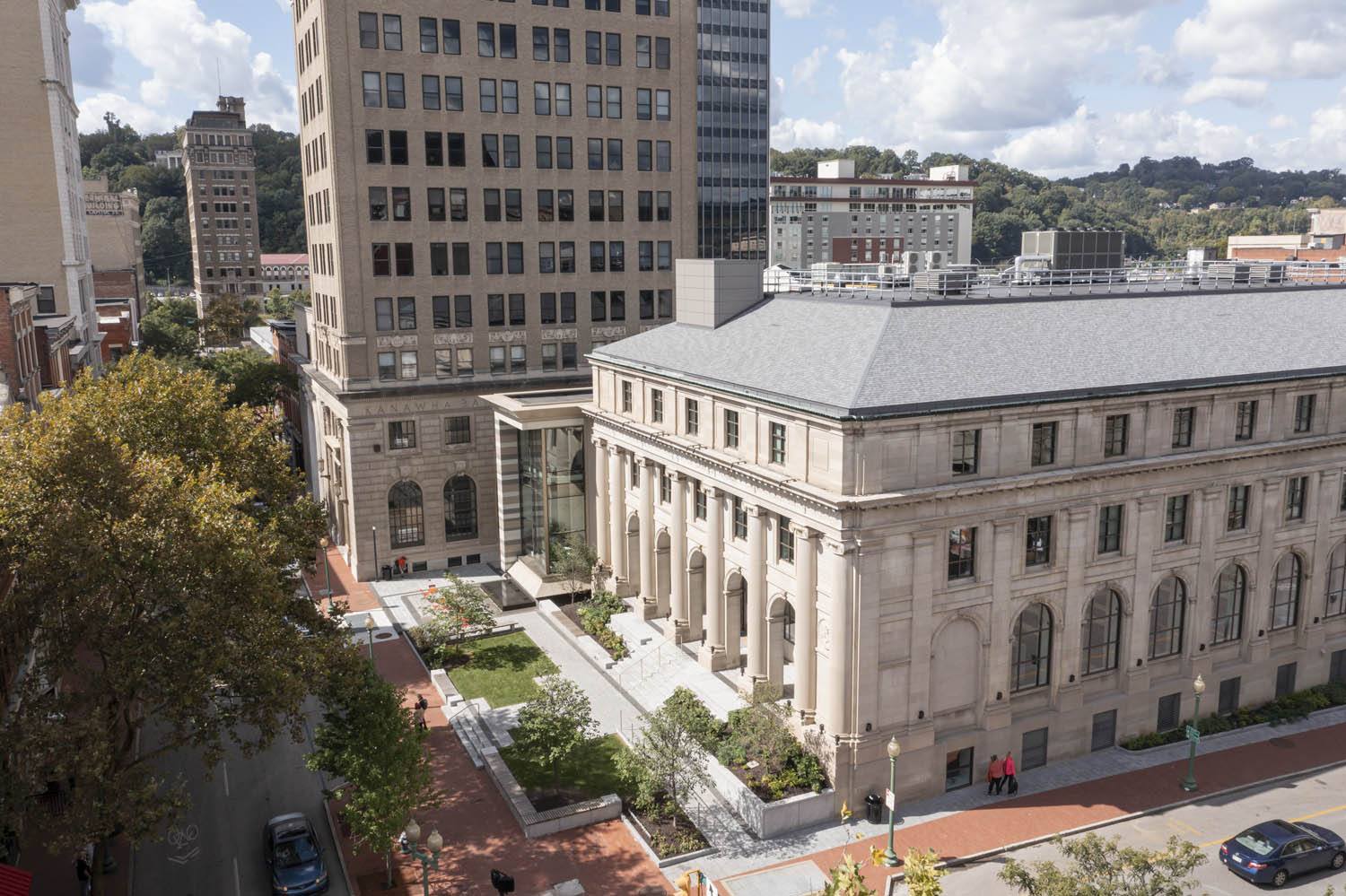 Charleston Gazette-Mail, by Greg Stone (9.30.2022)
It's a miracle that Mike Moore and Josh Beeman got anything done Tuesday.
There they stood, a tall tripod mounted at the corner of Charleston's Capitol and Quarrier streets. At the top of it sat a camera. It made for a visually arresting scene, but not nearly as intriguing as what hovered above.
Beeman, 43, stood beside Moore, operating a drone with his iPhone inserted into the joystick controls. The craft buzzed above one of the many trees that line Capitol, this one just across the street. A Gazette-Mail reporter approached and started asking questions. It's not unusual.
"We're always getting approached by onlookers," said Moore, director of business development at Silling Architects.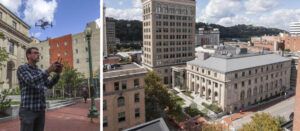 They pressed on, taking dozens of ground and aerial images of the renovated Kanawha County Public Library, which Silling designed in collaboration with HBM Architects. The firm uses Beeman's skills to showcase its work.
"We're certainly very proud of the work we do," Moore said. "We're equally proud of the clients we serve. This project is a notable, prominent community building. In addition to documenting the work that's done, it's capturing it in the best way possible. We've always thought having very high-quality work in photography is important."
That's where Beeman comes in. Based in Cincinnati, Beeman started his own photography business in 2008 and, for the past five years, has been doing drone work. He works in multiple states besides West Virginia, including Ohio, Kentucky, Illinois and Tennessee.
He uses a phone app that interacts with the drone. By inserting the phone into the drone's controls, he sees what the drone is seeing. He can choose to capture the image once he has the drone where he wants it.
Lest one think flying a drone for photographic purposes lends to daredevil tricks, Beeman doesn't go that route.
"I've wrecked enough drones that I don't do anything with them at all," Beeman said. "I'm as cautious as I can. I take the picture and land it."
The drones cost between $1,000 and $1,500 each. They are incomparable, Moore and Beeman agree, for adding context to photographs.
"What is around this?" Moore asked rhetorically. "How was it influenced by the surrounding context? It paints a better picture. When you look at a drone photo, you get a much better sense of where the building is and see a better way to showcase what the project is all about."
The iPhone provides Beeman the view the drone sees. The camera and memory card are on the craft itself. Once the camera ls activated, the image goes to the memory card, and that's that.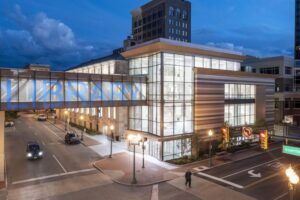 Silling first approached Beeman about taking photos of county courthouses it has designed. That job went well, so it uses him often, on several projects. Silling has done projects in 10 states, Moore said, with a specialty in courthouses and judicial buildings.
Ninety percent of Beeman's work is of the architectural variety. With Silling, his chief contacts are Moore and firm partner Jody Driggs. He is starting to shoot video with drones, Beeman said, referencing a recent Job in Louisville.
As for the Charleston library, Beeman ls impressed. It opened May 9, after two years of renovation guided by Silling.
"It's a really sweet project," Beeman said. "The encasing of the new, the modern overlapping the old section of the historical library, is fun and exciting.
Owing to his cautious nature, Beeman isn't keen on using a drone at low altitude or near people. The downtown work is far above any crowd. He has seen too many wedding videos gone bad.
As for shooting in Charleston, Beeman said the Capitol Street area is his favorite place. He loves the restaurants, Taylor Books and Fife Street Brewery. Silling's Driggs, by coincidence, is a part owner of the brewery.
"Most of your higher-quality design firms recognize how important quality photo work is in capturing the essence of the project," Moore said.